Alex Nichols' new book: A Guidebook to Handcuffs and Other Restraints of the Wor
---
[ Follow Ups ] [ Post Followup ] [ WWWBoard Version 2.0 Test ]
---
Posted by Joe Lauher (129.49.51.237) on September 29, 2002 at 08:31:31: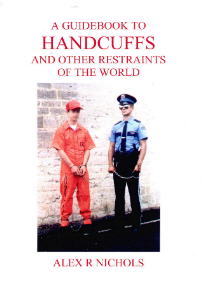 I have just been looking through my new copy of Alex's
new book. It is a great addition to the very limited
documentation available to our hobby. Congratulations
to Alex for a great job.
Not surprisingly the book is strongest in its coverage of British restraints.
There is good coverage of the major manufacturers, but there is also a long list
of minor firms I have never heard of before.
But there is one bit of bad news in the book. Alex admits that he has nothing to do
with the Nichols handcuff firm. Too bad.

Joe
---
---