The Radner-Great Houdini auction was a once in a lifetime affair and if you were not there, you missed out on a grand historic event. I missed the Butterfield auction a few years ago and I did not want to deprive myself of an even more important and historic Houdini auction. I was invited for the ride to Las Vegas by Mark and Sheila Cannon and their 2 kids. I grabbed that opportunity and I am sure glad that I did because the next 60 hours was going to be great and most memorable. Joe Fox and John Bushy went along for the ride too. We drove up on Friday morning and the ride was very pleasant with very little traffic. At noon we arrived at the Liberace museum as it was preview day and we were allowed to handle any of items for sale and attend a special viewing of the Water Torture Cell poster. It was in fantastic shape and had such vivid coloring that it was hard to fathom that it was close to 100 years old. It looked as though it was pulled yesterday. It sold the next day and the owner of that piece laid out over $59,000 to get it.

On our arrival, we met up with Fred Patella, Ron Spitz, and Larry Weeks. I am always glad to tag along with all these guys as they are so knowledgeable about handcuffs, escapes Houdini history, and magic in general. I am amazed by their stories about performing around the world and by the people that they have met and other experiences. I did not know Larry nor have I ever heard of him before. He was a long time escape performer and seller of old restraints. Joe had a great catalog of his from 1958. In it, he was selling Bean Giants for something ridiculous like $12.50. He showed me a pair of Hiatt handcuffs that he specifically made for his dog. The dog would actually escape out of them. Magician Norm Nielsen was among the rest of the Houdini fans in attendance. I was honored to spend the weekend with all of these folks and I have to tell you that Joe Fox was in rare form. It has been a long long time since I laughed so hard.

We were invited to watch the Show Girls of Magic show. It was very entertaining and I recommend attending this show when you have the chance. Just make sure that you go to the late viewing! Fred managed to get back stage passes and have dinner with Penn and Teller. He is one of the most fortunate guys I know. In a small way, I was fortunate enough to be able to talk with Teller. He was very nice and was a high bidder on an item or two. He was very interested in the Water Torture Cell. He photographed it from top to bottom. I suspect that there will be one just like it in one of their future shows. Rachel Cannon was able to get a picture with Teller. She happened to have a Mad magazine with her and now she is eligible to get a free subscription of the magazine for a year.

The next morning, we got up early and headed out for the auction. I was the first one in the door on Saturday for the auction and secured some seats for the rest of our "Handcuff" group. There were about 100 bidders on the floor and about 200 internet bidders. I am not sure how many proxy bids and phone bidders there were, but I do not think it was a substantial amount. Some of the people in the room were "Poster" people, some were "Picture" people, some were "autograph" people and others were there to hunt for pieces in their specialty. Just about 90% of the photos, keys, posters, and cuffs were won by live floor bidders. The water torture cell and some of the other apparatus was won by phone bids. It is presumed that the winner of some of this high end equipment was David Copperfield.

As the auction started, the first few items up for bid were several groups of keys and they generated a lot of action. Most of them went for an average of $100 a key. The next grouping was the restraints. The first few went up in price very quickly and I thought that the prices for the rare cuffs would be sky high. As it turned out, there was no rhyme or reason to the prices that were generated. My feeling is that the first few cuffs went high because Houdini collectors want to get at least 1 cuff from this collection. I believe that they bid without any knowledge of their rarity. After some of the first ones were sold and everyone got a chance to win one the prices seemed to drop.

The first cuff that was offered was item # 17. It was a Rankin and it closed at $4,400. Item # 18 was a broken Darby and it took in $2,400 I had seen some other Darby's go for $2,500 so I wondered how much my beloved Phelps (that I wanted so desperately) would go for. It seemed to me that any cuff that came with a key would fetch top dollar. The Phelps did not come with a key so I hoped that fact would lower a non-cuff collectors interest. Before too long they were up on the auction block. The hammer dropped when the price of $2,900 was attained. Fortunately for me, I was the last bidder. It goes without saying that I am very pleased to have won these. They are splendid and have nice clean markings on them. The patina is perfect as well. It seems as though I found a bargain! I picked up some other pieces as well as a nice Houdini autograph.

The Cannons picked up some goodies and they are even offering an interesting piece on eBay for any of you who missed the auction and still would like a chance to pick up something very unique. Congratulations go to John Bushy who picked up a very cool Lily iron. Instead of the regular square bolt that is used to screw the cuff together, it had a machined bolt with spanner wrench holes in it. Similar to a Plug 8 plug. The key was very nicely machined. I believe it to be a real Houdini item despite some of the provenance problems that were discussed on this web-site. In fact, the auctioneers admitted that some of the items that were formally authenticated to have been in the possession of Houdini were corrected and the truth about them was told.

This web-site deserves credit for sparking the fire that led to the changes. I was glad to see that the auctioneers listened and it showed that they had a degree of integrity. However, there was an obvious forgery of a Houdini autograph on a photo. The problem was addressed but Sid Radner told an unbelieving audience that it was a real autograph because "he had it in his possession for 60 years and that was before there were any forgeries". The mood in the room turned. The floor bidders stopped bidding on that piece immediately, but some poor internet bidder was not privy to the room's disbelief and bid too much for it. I think that was the only sour note in the auction. The rest of the auction proceeded very well and the auctioneers were very professional and at times quite humorous.

Some of the rare cuffs and memorabilia and the priced realized are:

Item # 53. Mckenzie mitts....$7,900

Item #54. McKenzie mitts....$6,900

Item #60. Bean Giant....$4,900

Item #61. German folding cuff....$15,000 This was the neatest cuff in the auction by far. I think of it as a second generation Hamburg 8. The new owner of this one should be very proud. (See photo below.)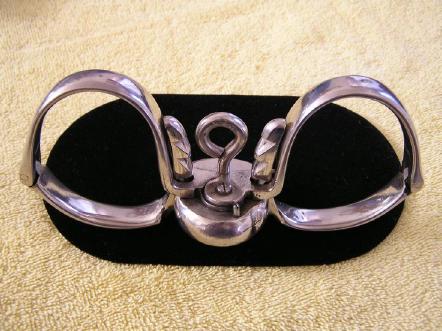 (Photo by John Bushey)

Milk Can Escape....$37,000

Water Torture Cell....$300,000

Some of the common cuffs fetched some serious money too:

Item #71. Providence Tool....$3,400

Item # 50. Marlin....$2,900

Item # 81. Bean Cobb L.I. ....$3,700

The Today Show aired a segment on the auction at 4:00 in the morning. I did not make it to that showing but would like to watch it if anyone taped it and can make a copy of it.

I had the opportunity to talk with Lance Burton and he told me that he is hosting a 2 hour special that the History Channel is producing. It will most likely be aired in Feb. or March. The producers of the show had a camera crew that taped the entire auction. If my pictures don't do the auction any justice, then this TV special should capture the moment.

The auction ended and by 7:00 most everyone had paid for their items and left the building with their new prized possessions. While I was waiting to check out, I thought that I should check out the Liberace museum. I have absolutely no interest in Liberace but since I was already there, I went through the museum anyway. I am glad that I did because I got to see the worlds largest rhinestone. Seems as though Liberace was the company's largest single customer, so they made the largest stone for him. It weighs about 50 pounds. They displayed plenty of his costumes, jewelry, set pieces, and pianos. I did not spend too much time in there as it was not my kind of thing. I suppose that it was alright to tour the museum. After all, Liberace was to piano playing as Houdini was to magic.

After dinner we went to an escape show featuring Dixie Dooley. He is a very good performer and was also in attendance at the auction. He was gracious and provided us with tickets to his show. It was very entertaining especially when Mark was called up to be in a rope tie escape race with another audience member. The other fellow was off to a good start and was starting to beat Mark. Mark could not let that happen so his stage persona kicked in and went for the kill. In his showmanship style he fell over backwards in the chair that he was tied to and wiggled out of his bonds before the other guy could get to his feet. That was a performance within a performance. Mark got the credit that was due to him and we watched the rest of the show. It was a fun show and was another memorable event. After that it was time to leave Las Vegas and journey back to the Cannon's home

The traffic was light at that time of night and we got back to the Cannons in no time at all. It was very late when we got home and do you think we went to bed right away? Heck no. We stayed up for another hour or two and talked about all the events of the last 48 hours and magic in general. The very first thing I did was to log into Handcuffs.org to see what everyone was saying about the auction.

As you can see, we had a terrific time. I wish there were more of you folks there to add to the fun.

Joe, Thank you for providing this web-site and for allowing us to post pictures and stories such as this to share with other folks that may find it interesting. Thanks to the Cannons, Joe, and John for a great time!
Mark Lyons
November 2004